Petroglyph launches Kickstarter campaign for World War II action strategy game

Petroglyph Games has announced the launch of their Kickstarter campaign for the World War II action strategy title Victory.
Focused on the North African campaign of WWII, Victory aims to bring fast and fun team matches with rapidly evolving tactics that make your use of the terrain almost as important as your martial strength.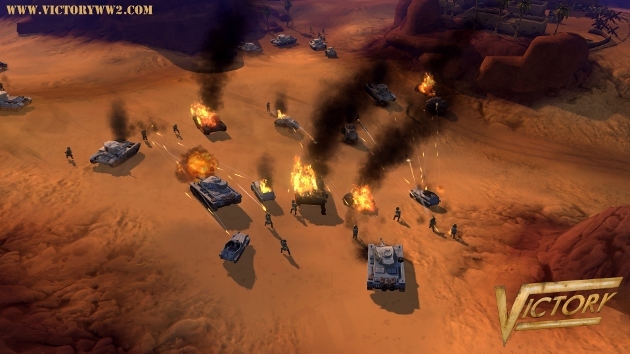 Currently at a playable prototype stage, the Victory Kickstart campaign offers very early access for players who throw in their backing to the qualifying level.
Chuck Kroegel, Petroglyph Games' CEO said in a press release today:
"We've already found the Victory prototype to be very fun to play, and we're just getting started. Even though we have a legacy of making award-winning RTS games, it's exciting to branch out into a new and different strategy gaming experience."
Victory's features are stated as including:
Online team vs. team tactical battle arena
Choose units from a personal collection to bring into each match
Clear decisive tactics that utilize line-of-sight, high ground, and cover
Quick matches lasting 15-20 minutes
Buy or earn booster Commander Packs containing random, collectible units and more
Petroglyph's pedigree includes developers such as Joe Bostic who was involved with the original Command and Conquer series; which explains why strategy fans just might want to keep an eye on this project.
Scott "Jarimor" Hawkes, Editor in Chief