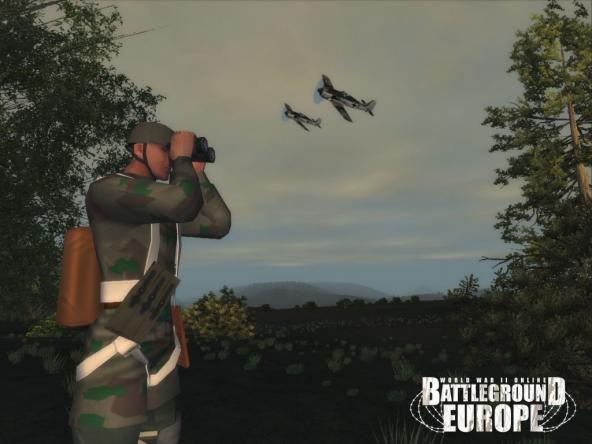 World War II Online: Battleground Europe, also referred to as WWIIOL:BE, WW2OL or BE is a massively multi-player online first-person shooter computer game (MMOFPS) first released June 06, 2001. The game is set in 1940 through 1943 World War II Europe. It is a combined arms war simulation otherwise known as a virtual battlefield. A player can command or crew a variety of accurately modeled aircraft, armored fighting vehicles, anti-tank guns, anti-aircraft artillery, and naval vessels, or fight as a foot-soldier with a variety of infantry weapons. The game is played in real time along-side or against other players as German, British (UK) and French forces in a persistent world. Command structures and missions provide strategic and tactical layers while ranks provide a RPG layer by demonstrating leadership roles. WWIIOL online uses a 1/2 scale map of Western Europe with 30,000 km² of accurate terrain (800 m resolution satellite data). It is commonly recognized as the first MMOFPS.
WWIIOL was re-packaged and re-released in 2006 under the new name of World War II Online: Battleground Europe, and the name Battleground Europe is sometimes used to refer to the game.
First Person Point of View in all units
Advanced Combat Simulation with Combined arms action (Air, Sea, Ground)
Over 600 Cities and Towns to fight for, in block by block combat through over 29,000 Buildings
Huge zoneless map of Europe covering over 350,000 kilometers with over 4,000,000 3D trees
Over 200 Bridges that can be destroyed and repaired
Line of Sight over 6km
Thousands of players fighting 24/7
Over 80 different vehicles and weapons available (including land air and sea types)
Multicrew feature allows more than one player to play in the same vehicle
Realistic Ballistics for all weapons
Factory production sets spawnable units in the field
Airfields host deployed fighter or bomber units
Deep Water Ports host deployed naval flotillas
Supply management
Production Management
Technologies Research Management
Brigade Deployment
Attack Objectives
Defense Objectives
Re-supply
Cut enemy supply
Blow and Repair Bridges
Strategic Map
Early Warning Air Attack System
Area Chat (Whisper, Normal, Shout)
Enemy communications delivered as garbled translations
Community Chat (French/Spanish/German etc...)
High Command Chat
Brigade Chat
Private Messaging
Squad Chat (Talk with your buddies)
Multiple careers in 3 Different Armies(Air/Sea/Ground)
Personal combat stats and records(Kills/Ratio/Death/Best Units and personal diary)
Rank promotion with gameplay success
Promotion to Command positions possible with tactical success
Gazette Online newspaper(English Only)
Campaign Stats
Global Stats
Join a virtual unit with your personal
Get Missions and Orders by the High Command
Lead your men and become an officer
Weekly newsletter
Dev News/Log
Development screenshots
Replies to Players questions
Polls
Community sites "HQ" (French, German, Italian, Spanish etc...)
Technical Support Forum(French/English)
Customer Support Forum (French/English)
HQ Managers forum
Dev team interaction via the HQs or Forum(French/English)
Intermission between campaigns with Free Events
Frequent updates adding gameplay enhancements and new content to the game
Paid subscription required ($14.99/mo as low as $8.33/mo with prepay)
Multiple payment methods(Credit Card, check, wire etc...)
1/3/6/12 Months subscriptions available
Minimum
PC
Windows XP
1.2 GHz CPU
512 MB of RAM
128 MB 3d Video Card
56K Modem or with Internet connection (broadband internet connection recommended)
1GB free hard disc space
DirectX 9.0 or higher
Mac
OS X (version 10.4.5 minimum) or higher
Apple Macintosh G4 processor 1.2 GHz or higher version.
512MB RAM
128 MB video card
56k modem with internet connection (broadband internet connection recommended)
1GB free hard drive space
This page last modified 2008-05-01 03:32:18.