This character profile is part of the FFXI Lore compilation. This page may contain SPOILERS. Read at your own risk.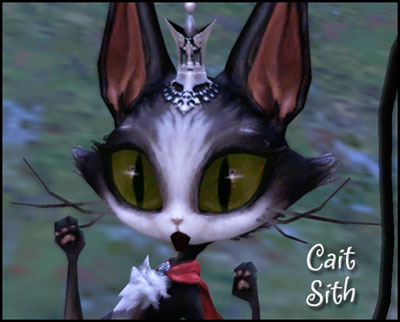 Race: ???
Gender: Female
Discerning Quote:
In the early parts of the Wings of the Goddess storyline, Cait Sith is known as a single character. It is later revealed that many different Cait Siths exist. So far, known Cait Siths are:
Cait Sith Aon
Cait Sith Ceithir
Cait Sith Coig
Cait Sith Dha (deceased)
Cait Sith Naoi
Cait Sith Ochd (deceased)
Cait Sith Seachd
Cait Sith Sia
Cait Sith Tri
Cait Sith has appeared in cutscenes for the following quests and missions.
I see it all.
Surprised by Lilisette.
Lilisette's interrogation
A discussion is in order.
Who is that voice?
Nooooooo!
This page last modified 2009-05-02 04:53:51.